Dr. Kevin Fleming joins Deepak Chopra in an upcoming release of
Success is a State of Mind: Building a Foundation for Your Future!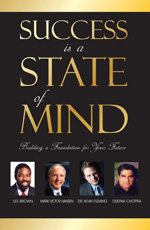 Insight Publishing is pleased to present Dr. Kevin Fleming, Les Brown, Mark Victor Hansen, and Deepak Chopra in an exceptional compilation of resourceful people who will tell you how they learned how to be successful. They will share with you their secrets and reveal some remarkable insights on how to set goals in life and how to accomplish those goals.